SERVICES INCLUDED & SPECIALS
at Sepp & Hanni's suites and holiday apartments
We add a few extra treats to make sure you feel well taken care of,
and to make your holiday as wonderful and carefree as possible.
With the Gourmet Bonus, you'll save 20% on the Stubaierhof culinary package.
For example, Sepp gifts you a Stubai Super Card in the summer, and much more.

Treats
Serviced apartments with lots of added comfort:
Concierge and reception service, daily room cleaning, fresh sheets,
Hanni's shop next door, and lots more…
Wellness included!
Free access to the Stubaierhof wellness world
(wellness & spa area with pool, changing rooms available) in the Stubaierhof mountain climbing hotel just 300m away
Central location in the heart of Neustift
Numerous restaurants, bars, and shops close by.
large sun garden
with the Stubaierhof's Mountain Goat climbing park for kids and adults in the Stubaierhof mountain climbing hotel just 300m away
Mountain climbing space
Ground level and electronically secured, with a drying system for your equipment.
Sepp & Hanni's cosy "Welcome Lounge"
with full fair-use refrigerator
For families
Free children's cart to make strolling around the village and walking to the Stubaierhof hotel easier.
Technology
Free high-speed Internet (W-LAN) throughout the home, "Kick me offline" switch for your living area
Parking
Free parking spaces around the house
Activities
Expert advice and guidance for your activities.
Free access to our mountain climbing hotel's activity program

WHERE THE LITTLE ONES ARE THE GREATEST
Family holidays at Sepp & Hanni's
Families have a great time at Sepp & Hanni's! Our Glückswies'n suite has plenty of room for all, and there's lots to see and do. The surrounding nature and mountains offer endless options for fun and adventures for kids and adults.
Visit the children's play room with a climbing wall and giant Lego blocks at our Stubaierhof mountain climbing hotel – just a 5 minute walk away. In the evening, the hotel shows children's movies. The highlight, however, is our Mountain Goat climbing park in the hotel garden, where kids can clamber up the giant goat climbing frame, go on the swings, or challenge themselves with an obstacle course.
In the summer, kids and teenagers enjoy fun new activities every day in our free children's program, BIG Family Stubai.
We also provide baby cots and high chairs free of charge, upon request. Children up to 10 years old also ride our Stubai lift free of charge.
Discounts for children
0 to 2 years – free
3 to 4 years – 80 % off
5 to 9 years – 50 % off
10 to 14 years – 30 % off
15 to 16 years – 20 % off
(with 2 full-price guests, in the parents' rooms)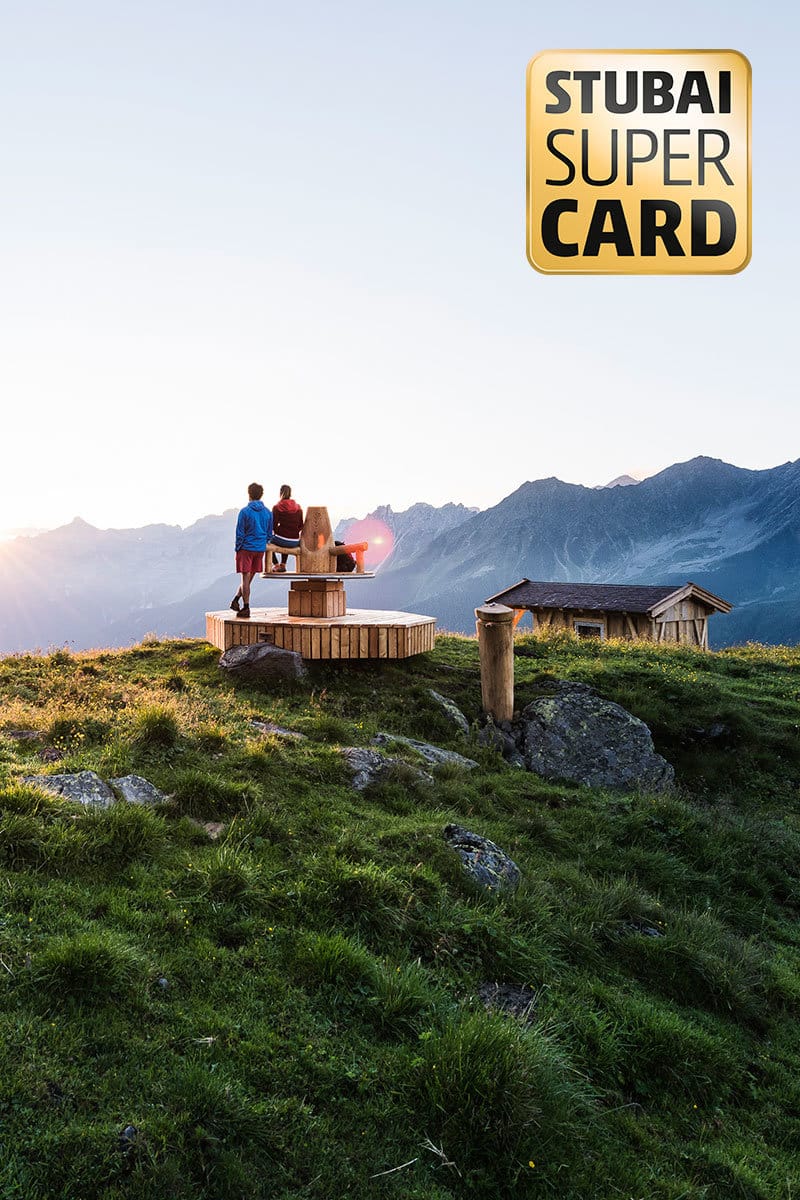 SEPP'S SUMMER GIFT TO YOU

The card is valid from check-in and for the full day of departure
—
Public Transport and the Stubai train to Innsbruck free of charge
—
2 weekly three-hour pass for the StuBay water park
—
1 weekly ride on the Mieders summer Alpine coaster.
—
Free arrival from the Innsbruck train station, we'll send you a voucher
—
Free rides aboard the four mountain trains
—
30 % discount on a number of attractions
—

The Stubaierhof CULINARY package
Do you value variety and flexibility when on holiday? Want to try everything at your own pace?
Do exactly what you want, when you want! Choose your favorite suite and book meals individually on a daily basis.
Looking for a pampered vacation? Then treat yourself to Sepp & Hanni's Gourmet Bonus:
Select the gourmet half-board option before arrival and save more than 20%
€ 64,- instead of € 92,- per person/day
—
Hearty breakfast buffet with organic options & tea bar
Please register your request by 9 PM on the previous day
€ 16,- per person (instead of € 24,-)

—
5- to 6-course gourmet evening menu

Wide selection of light & vegetarian dishes, salads from the buffet, fresh herbs & seasonings from the Stubaierhof mountain herb garden, daily local goodies from the mountains. Please register your request by 5 p.m.
€ 48,- per person (instead of € 68,-)

—
Gourmet half-board
Includes a home-made dessert buffet and a substantial afternoon snack
€ 64,- per person
—
Packed lunch available upon request
—